A Glance into my Wardrobe
Those are items I love to wear – I don't always have everything available on short notice. If you have a specific outfit request, let me know well in advance.
Leather:
Long and short, tight or swinging skirts, vests and tops, underbust and overbust corsets, leather lingerie (bras, panties, garter belts etc.), harness, leather trousers, leather catsuit, countless long and short gloves and arm sleeves in different colours, leather coats and jackets, sandals, court shoes, knee high and thigh high boots.
My leather wardrobe is constantly growing – I don't have a profession, I have an excuse to indulge in my fetish!
PVC:
Different dresses, tops and skirts, lingerie, PVC stockings, gloves and arm sleeves, corsets, PVC catsuit, patent leather shoes.
Rubber:
Latex lingerie, garter belt and rubber stockings, gloves, tops and skirts, mini dress, laced up latex boots.
Corsetry:
Old fashioned girdles and garter belts in different colours, under- and overbust corsets. Most of my corsets are custom made and suitable for extreme tight lacing. Since a few of them can only be fully closed over a longer time period I wear those for passionate corset lovers only – you must be able to sensually tighten those laces for me bit by bit. Corsets that restrain my movement aren't suitable for every kind of play.
Glossy Satin:
Satin lingerie, bras, panties, thongs, long and short satin night gowns, negligés and satin dressing gowns in different colours. Day and cocktail dresses, satin blouses and satin pencil skirt, short and long satin gloves, several satin corsets, high heeled shoes.
Stockings, High Heels, Shoes and Boots:
All kinds of pantyhose in different colours, fully fashioned nylon stockings, RHT nylon stockings, stay-ups, fishnet stockings and fishnet pantyhose. Red and black patent leather court shoes, many fine leather court shoes, black and transparent platform mules, different leather and patent sandals, ankle high patent leather boots, several different knee and thigh high boots with or without platforms or laces. I usually wear 5″ (12,5cm) heels for court shoes, sandals and boots without platform, and much higher heels for platform shoes and boots. Some scenarios require special footwear: sweaty trainers and sneakers, Birkenstocks, thongs, army boots, suede soled dance shoes, genuine riding boots or street gear.
Role play costumes:
French maid's dress, doctor or nurse coat, genuine British school uniform (worn with white socks, buckled shoes and white cotton panties), several "modest" skirts and blouses, innocent summer dresses, tailored business suits, oriental belly dance costumes, sluttish mini skirts and transparent blouses, jeans and sneakers, a US air force uniform, camouflage gear with heavy army boots, sports gear, little girls' pyjamas, lots of goth gowns and medieval dresses, cocktail dresses, evening and ball gowns, "Story of O" evening wear, china girl dresses made from silk brocade, genuine Japanese kimono and accessories, English horseback riding gear, 40s and 50s style dresses.
Other items:
A great variety of lingerie made from velvet, satin, lace and other fabrics in different colours, open crotch panties and open cup bras, innocent black and white cotton panties, negligés and baby dolls, satin opera gloves, decorative collars, nylon tube dresses, full body suits made from transparent nylon, lycra, wetlook fabric and fishnet, various fur coats and capes (fox, mink etc.).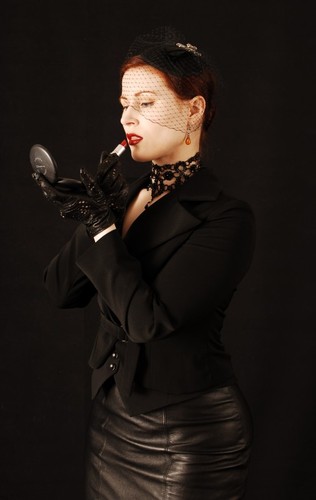 Of course I own plenty of business, evening and casual wear suitable for discreet outcalls, dinner dates and all kinds of social events.
In case you'd like to bring special clothing for me to wear I'm happy to do so as long as the items are clearly new and unworn. Size M (German 38) usually fits, if in doubt, please contact me beforehand. My shoe size is European size 37 1/2 for court shoes (38 for boots, 37 for sandals) – that's US about size 7 and UK size 5. I wear FF and RHT nylon stockings in size M / III / 10 / 165-170, leather gloves size 6 1/2 and my bra size is European 80B.
I'm also available for shopping trips for lingerie, shoes or fetish clothing – Hamburg offers a huge selection of great shops and I know just where to take you.
If you would like to enjoy my used panties, nylon stockings or tights / pantyhose but can't see me in person, please e-mail me with your requirements.
---
More passions: Top – Bottom – Fetish and role play – Outcalls ←