Bottoming for you
I pose for you
Or squirm in your ropes
Explore my body
Enjoy me purring
Let me pleasure you
I'm all yours …
Confident enough to give up control.
Apart from spanking up to severe CP and creative role play I also love gentle, erotic scenes. If you are a rope artist, or if you enjoy watching a beautiful woman pose for you just the way you like it, or if you want to ravish a helpless girl until her body is shivering with pleasure – I am the play mate for you.
Things I enjoy as a bottom:
All kinds of role play including "dark" and "taboo" themes
Corporal punishment
Bondage: rope artists win my heart
Various gags
Hand spanking – whips – floggers – crops – canes. Marks are fine on butt and thighs. If you own bull whips and single tails and know how to use them with precision bring them along!
Bastinado (gentle to medium intensity)
Feet tickling
Medical examination, e.g. with a speculum on our gynaecological chair
Erotic teasing with dildos and vibrators
Electrical play (TENS)
Weights on clamps or attached to my piercing rings
Giving and receiving oral sex
Intercourse: oh yesss please …
Exhibition by a mistress or master, orgies, lesbian sex / threesomes
Somnophilia ("Sleeping Girl Fetish")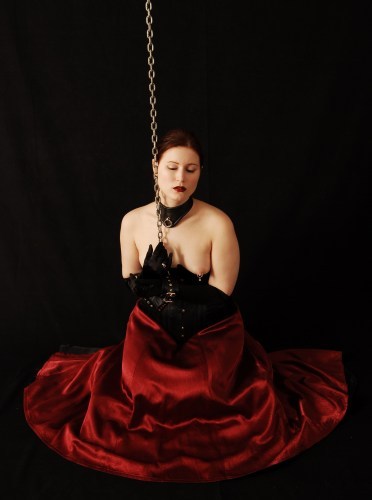 Limits: Anal penetration, receiving golden showers or scat, cum on face, face slapping, hair pulling, nipple torture, fisting, oral or vaginal penetration without the use of barriers, breaking of skin. I bottom at incalls on my premises only and don't offer party escort service or hotel sessions.
I am a masochist and pleasure slut rather than a submissive. Power exchange within role play scenarios can be really hot – boss and secretary, headmaster and schoolgirl, "Story of O" etc. If you're taking yourself very seriously as an old school dominant you'll probably be happier with a different provider though.
A preliminary talk as equals is mandatory.
If you are a novice top or unsure what you'd like to do please let me know before we start our scene. I'm happy to teach you the basics of any BDSM practice you are curious about. Or you can watch a mistress or master play with me who will guide you and ease you into joining in.
---
More passions: Top ← → Fetish and role play – Outcalls – Wardrobe